Welcome to Amlan's blog
(A common man's experience, feeling and more …)
My thankfulness to Prof. Om Prakash Mishra and others
(On completion of my first phase of administrative experience: 21 March 2023 – 20 May 2023)
20 May 2023
With some unpleasant feelings, Oscar Wilde once wrote that "Something was dead in each of us, and what was dead was hope". Although, we have a different context and had a different situation in recent past, in a way or other, the above quote is equally relevant for us, as due to the different happenings and consequent collages in our inner and outer realms, we were losing hope gradually. Keeping our soft feelings away and being practical, if we look at our work, I would rather say that we were approaching towards a 'void' situation, as several crucial administrative positions remained vacant posing obstacles to run even regular and essential activities. All of a sudden, Sir was sent to lead us, and who ignited our 'hope' instantly. Staff members – from juniors to those at the middle, like me, and seniors – or stakeholders with small and trivial roles or of consequential importance, resonated with the vibe that poised around us with his presence. I hope that such vibration and the 'big push' will continue to sketch the trajectory of our common goals and those of the society at large in reality. I am thankful to you Sir, unexpectedly, for giving me an opportunity to serve in administrative capacity, in addition to my normal teaching and academic activities. I am thankful to my students, who, acknowledging my busy schedule, are having sessions in odd hours – in the early morning or evening. I am thankful to my colleagues (including all in my usual and new establishments), all the stakeholders and my friends with the print and visual media for their constant encouragement and support in all possible ways. However, please do not forget to judge me, in principle, on the question – whether, in rendering service, I am enabling light to touch everyone without refraction!
In love and service,
amlan.
News headline (1): Available here.
News headline (2): Available here.
The silent postures of the Himalayan Sector of the University of North Bengal, Darjeeling
20 May 2020
The area, within the main campus of the University of North Bengal, where we live in, is popularly known as the Himalayan Sector. It is located in the furthest (North-Western) corner of the campus … and far from the madding crowd. The view of 'The Himalayas' is so clear from this area throughout the year, except for the cloudy and foggy days. The golden necklace (of lights) sparks from the dusk around the Kurseong region of the mountain almost every day. Probably, for this reason the area is named so – the Himalayan Sector. Officially (as per the University classification), it is known as the Western Sector. The residential areas are located in the Eastern and Western sides of the campus respectively. We live in the northern part of the Western Sector.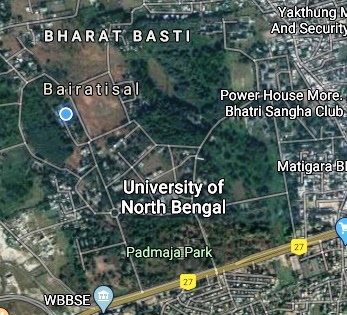 Except some noises in the airspace and some loud utterings from the playground in the early morning and late afternoon, and the same from some other regular activities, the place is more than calm and quite throughout the day and night. Of course, I consider the chirping or shrieking or hooting of insects and night birds from dusk over and over as a part of silence! Strangers with genuine need only come here – such as delivery boys, hawkers with fruits and vegetables, fish etc. Unnecessary loitering is rarely seen. People of the adjacent area, who use the kutcha road (like an embankment) that stretches between the playground and the residential complexes of the Himalayan Sector, go silently. Also, young and aged persons are seen to spend their silent moments here on this road in the morning as well as in the late afternoon. Some regular activities, which became part and parcel of our daily life, such as the regular patrolling of the Watch and Ward Department – an essential service from the University, and use of vehicles by us, break the silence in day and at night to some extent. The mobile telephone network is poor and often we speak louder than usual breaking the silence. However, in my overall assessment, the Himalayan Sector is a zone that thrills in silence. Can you imagine such a silent zone in an urban world?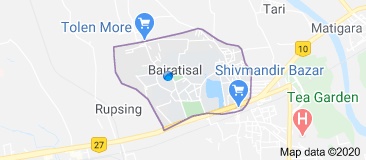 According to the Indian Census 2011, the area belongs to Bairatisal (CT). CT stands for Census Town implying an urban area. Although it seems like a village, it is not conceptually. One may Google or check at Wiki or look at the Census India 2011 document on definition and concepts of a CT.
In India, a census town is one which is not statutorily notified and administered as a town, but nevertheless whose population has attained urban characteristics as listed below:
(a) Population exceeds 5,000; (b) At least 75% of main male working population is employed outside the agricultural sector; and (c) Minimum population density of 400 persons per sq. km.
As the population of Bairatisal is approximately 5000, it is classified as Class-V Census Town. According to University website, the main campus is spread over an area of 330 acres (1.3 sq. kms) and lies between Siliguri and Bagdogra Airport, in the Terai region. As per census documents, the area of Bairatisal is 2.51 sq. kms. Almost the whole of the main campus, except some portion of Padmaja Park, Gate No. 1 and Gate No. 2, belongs to Bairatisal. The Law Department of the Campus (including the above-mentioned exceptions), on the other side, belongs to another Census Town, namely Bara Mohansingh. However, if we divide the Bairatisal into four quadrants, surely the Himalayan Sector falls in the fourth quadrant, i.e., the North-Western one.
The beauty and overall appeal of the nature of this place generate some sort of an inarticulate feeling, which is not easy for me to write. Once, I wrote somewhere that … "It is not always possible to document everything in the same language. Sometimes it is easy to write something than displaying. Sometimes … the opposite." In line with the same, I have the only option here to display the glimpses of the subject matter to document my inarticulate feeling on the same! I hope that you will understand and enjoy.
Also, please allow me to add more glimpses continuously, as the nature reacts differently in different seasons. For example, the flowering Palash trees – The Trees of the Flame – convey the onset of Spring. The grounds also remain full with the orange-vermillion flowers. While returning from the Department, I often take the narrow path from the NBU Faculty Club, keeping the Sal Kunja (the forest of Sal trees) on the right, towards the multipurpose playground. On the way, often I collect some Palash flowers from the ground for home – in remembrance of one unusual event that I did 25 years ago. When I was a Part II student in 1995, I climbed one Palash tree to pluck some flowers in response to a request from my friends just before the day of Saraswati Puja. Now, on the onset of Summer, the whole area is blooming with the flowering Jarul trees – The Queen's Crape Myrtle.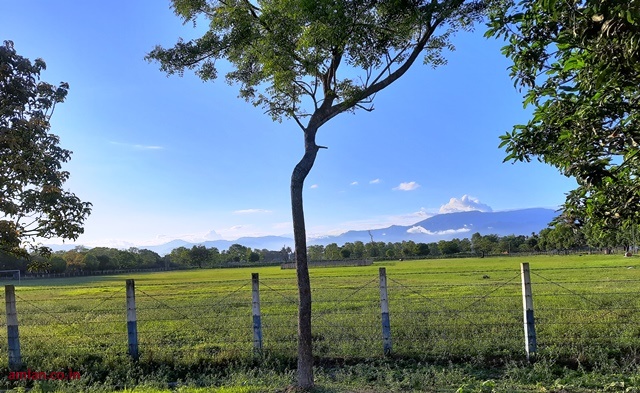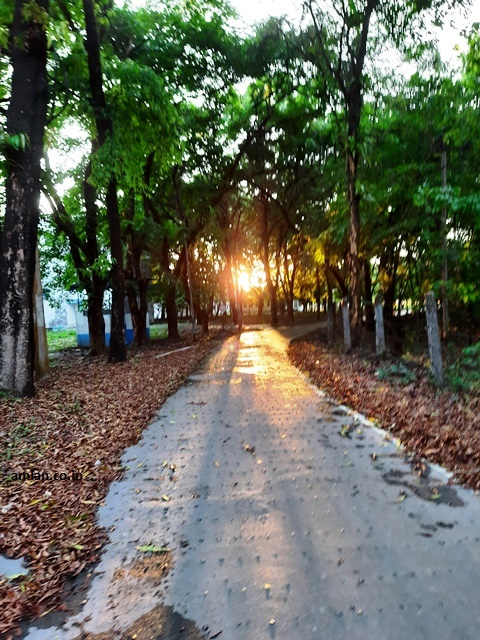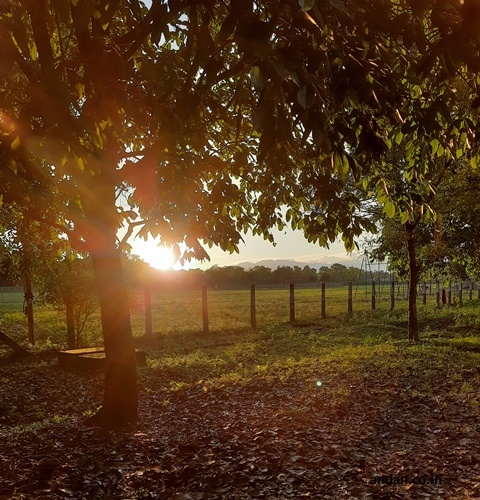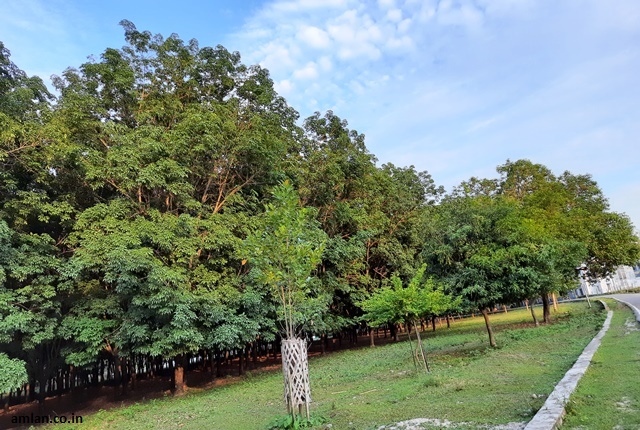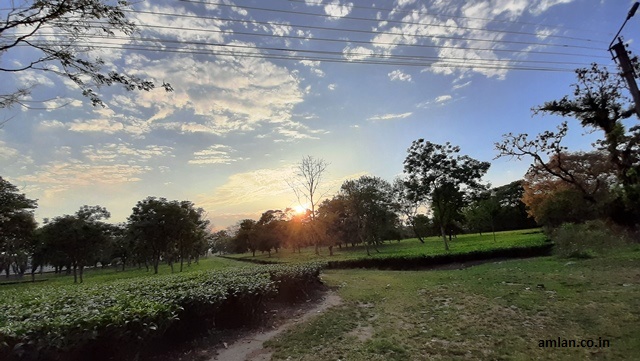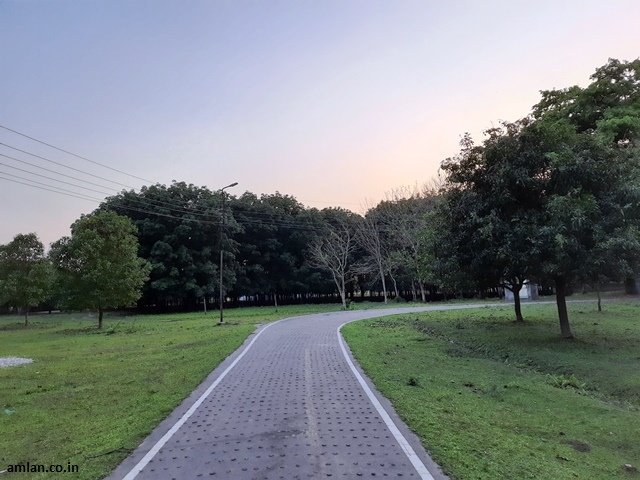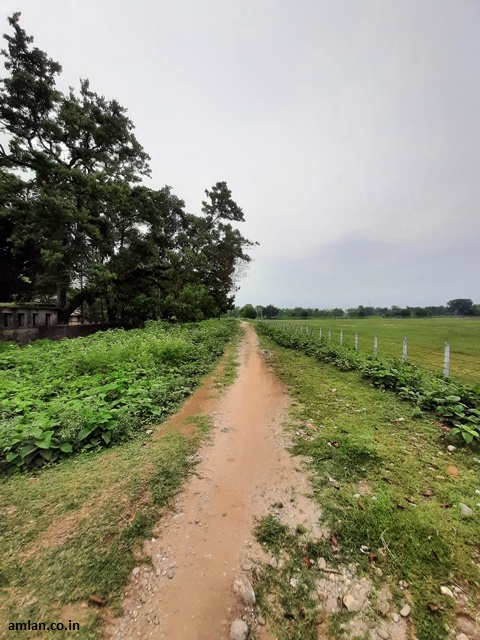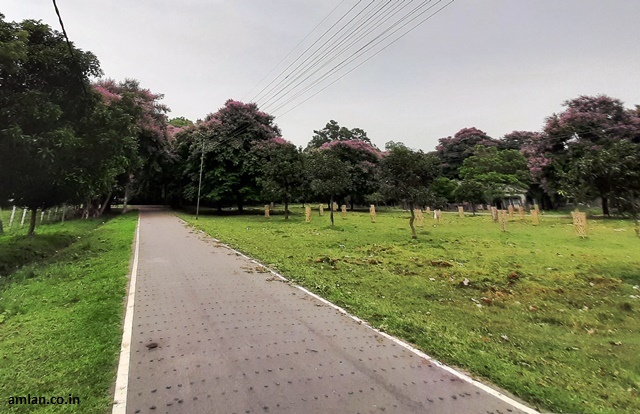 The place is safe for comfortable living and superb for study and research. However as it is surrounded by bushes of trees and tea garden, one may experience some thrilling experiences at times – quite occasionally. For example, I have spotted (occasionally) some reptiles in the area. Often some news related to reptiles come in the local newspapers. Recently, one leopard was spotted in the area by one of our Colleagues while evening walk. It was a big news in several newspapers. Precautionary measures have also been taken by the University Authority subsequently. May be it is an unusual phenomenon – as wild animals are coming out to populated localities in different countries of the world due to the recent ongoing lockdown for tackling Covid 19. However, this thrilling experience of a roaming leopard nearby on campus is unique. It is heard that residents experienced such experience in past too.
I hope that you will enjoy my post on campus and campus life in the Himalayan Sector of the University of North Bengal from the perspective of a working teacher (and a common man) and encourage me to write again in future.
A tribute and honour to (Late) Prof. Manas Dasgupta
18 May 2020

A successful teacher, after completing nearly his full course of life with dedication in teaching, research, consultancy and popular writings, left one world for the other. He was suffering from physical ailments associated with ageing and else for quite some time. Earthly arrangements could not relieve his pain. He responded to the tune coming from the other world and moved consciously, where he will neither suffer from any pain nor will he pass away any more – "হেথা নাইকো মৃত্যু, নাইকো জরা". Also, it is said that time and distance are void there. So, we are not going to miss him any more – he will remain in our memory and feeling forever. May his soul be at peace. Oum shanti … oum shanti … oum shanti.
I beg to be excused in advance that I do not have enough capacity to evaluate (Late) Prof. Masas Dasgupta (aka MDG) as a teacher or as a person. The only thing that I can share about him is my feelings. He was a very popular and friendly teacher among us at the University of North Bengal. He taught me during 1994-1995 in MA Part I & Part II. His lectures were too attractive to us. Simplicity in his presentation was unparalleled. He never exaggerated mathematical models in front of us. He used to teach us the facts not 'text'. He treated all students equally and encouraged everybody without any discrimination. Definitely, he was a great teacher.
Still I remember some interactions and glimpses with him. I have interest in alternative systems of medicine for long. One day, in Part II class, he asked me to give some examples of it. I described the uses of turmeric in everyday use. He added some more points to my answer and praised me! On the day of my first convocation, on 14th December 1994, when I was roaming in costume in the Sal Kunja with my medal (which I received for my performance in the undergraduate level), he inspected everything carefully and advised me to preserve all these (including the costume) for days to come.
Personally, I have been motivated enough in empirical research on lives and economy of North Bengal from his path of work on the same. It is needless to say that he was the pioneer person to work with for the development of land and people of North Bengal and Sikkim. According to Sodhganga, a reservoir of Indian theses, MDG supervised 22 doctoral works of the Department of Economics, University of North Bengal. Of the 22, 15 are directly related to the economy of North Bengal; one considered the same of whole West Bengal; two are related to Sikkim, and one each is related to Tripura and Nepal. Two works are related to Indo-Soviet and Indo-Nepal trade issues. He authored several books and research articles. He has also been a regular columnist of Uttarbanga Sambad – a popular Bengali news daily in North Bengal. I used to read his popular writings with great interest. I hope that his tradition of teaching research will continuously be followed by many of us at North Bengal and beyond.
Last but not least, presently I am staying at the same residential unit on campus, where MDG spent most of his working life. I feel his existence every day in our surroundings. When I pass by the flowering trees at the front terrace or look at the grownup trees at the backyard, I realise that MDG might have planted those in his time with a long vision for future generations. In other words or in terminology of economics, his works are 'sustainable'. I feel honored to be a student of such a great teacher. Although, I am surrounded by a melancholy feeling today for his departure from this physical world, it is a matter of great pride for me for being able to bid 'a successful teacher' farewell from my present position.
[Prof. Manas Dasgupta, Retired Professor, Department of Economics, University of North Bengal, Darjeeling passed away on 8th May 2020 at 9.30 pm IST as reported in the Uttarbanga Sambad, 09th May 2020, p.8]
A pdf version of the message is available below:
Presenting my old blog postings again
15 May 2020
This website was initially under the server of Yahoo! India Small Business, and then under the same of Abaco Small Business during 2010-2016. In the middle of December 2016, it was sifted to the server of Techno Developers Group, Siliguri powered by WordPress & Superbthemes.
As the site was transferred from one server to the other, all the pages were collapsed. I had to prepare the pages gradually with priority and importance. I had to drop some pages. Still some pages are not developed or designed. My "Blog" is such a page, which was in incomplete stage till recent past. I made it public today on 15 May 2020.
During 2010-2016, I wrote on many issues (all are not relevant now) in the "Blog", which I would like add again. I observed that many of the issues (or else) were addressed subsequently by appropriate authorities. I will elaborate in detail in near future.
Having difficulty in copying and pasting below. Please allow me some more time to do that.
The first announcement
20 January 2010
http://amlan.co.in is published on the day of Saraswati Puja, 20 January 2010 at 05.00 PM IST.